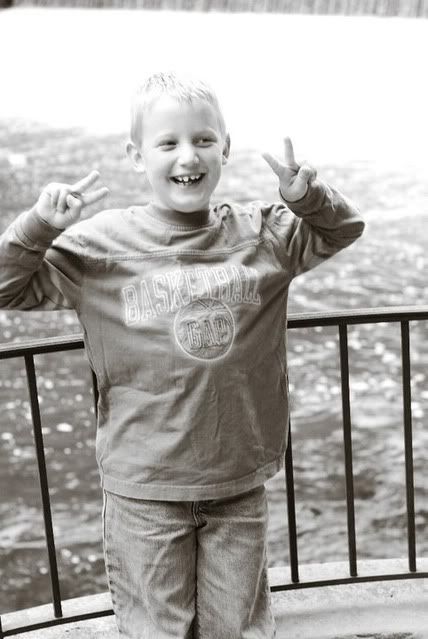 So my third baby turns 8 years old today! N is such an amazing boy. He has always been a little spitfire even from before birth. The week before I actually gave birth to him I had false labor. Numerous times this boy was teasing me and making me think he was coming when, in fact, he wasn't. Such a little stinker! When the time finally came, it was Saturday, February 21st when I went into labor. I remember we had just gotten a new reclincer (a catnapper, which, by the way, has already bit this dust. It did so within 2yrs!) I was laying on it feeling all huge and so badly wanting to meet my new baby. We hadn't found out the gender with Nolan so that was a surprise as well! J's parent's were in to watch the other boys while I was at the hospital (and had been all week!) and were going to have to leave on Sunday to go back to work. I was feeling a little dumb at this point in time and went to bed.
About an hour later, at 11pm I was back downstairs. I said that I was having contractions and this time I knew they were the real thing. We went to the hospital and I was about 3cm along. UGH! I was hoping for at least 5. So on I labored and walked the halls of the hospital, pausing for contractions. Finally, I decided I couldn't take it anymore and opted for an epidural. The doc came in and began to prep me. Over and over he poked me with that HUGE needle and tried to insert the catheter and each time it would send shooting pains from my back down into the backs of my legs. Finally after and hour (yes an hour of active labor, and painful contractions, while being hunched over in a ball!) he said he couldn't try any more or I'd get a spinal headache. He wasn't sure what the problem was since I didn't have curvature of the spine or anything. I'd simply taken it as God did not want me to have it for whatever reason and told the doc it was fine but I might be saying bad things about him later, lol! (I didn't though. I'm pretty calm in labor!)
So I did my deep breathing and moaning and groaning, and
finally
my little surprise arrived at 5:03am. I was told it was a boy and through my tears I said, "I can't believe I am a mom to 3 boys!" He was perfectly healthy and began nursing like a champ right away. I am so proud of Nolan and the little boy he is. I know someday God will use his upbeat spirit and feistyness for Him. So Happy 8th Birthday, Nolan!
Here are some pics of N through the years (he is my most mischievious which is why in one he has powder on his face and another he has conditioner all over his head!):
This is one of my all time favorites of Nolan. He was 2 and it was his first time in the sprinklers!