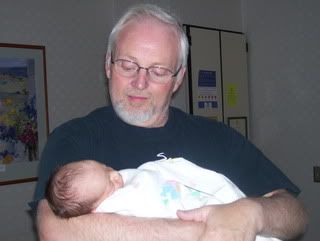 Father in Law with MyMy
Well, it's hard to believe that on July 6th it will be 2yrs since my father in law passed away. His absence has been painfully noticeable. My boys miss him terribly. We all miss him terribly. I wrote a post about him last year and thought about just using that, but I decided to write again. It was on May 31st that he was first taken to the hospital. Slurring speech, stumbling , that kind of thing. Then we found out it was a brain tumor.
I remember at first we were very optimistic. The thought of losing him was just not entertained. He was a big part of our lives and no way would God take away such a big part. He went into the hospital and was released (I don't remember if it was before or after some radiation) but I remember we went up the weekend he was discharged and we were hopeful. I remember thinking he looked terrible. He could hardly breathe and the next day he ended up back in the hospital and wouldn't ever step foot in his home again.
Turns out it was melanoma (the most deadly form of skin cancer) that had metastasized to his brain. And it was agressive. Slowly he began to change. He was always so patient with the boys and loving and present. I'll never forget the one day we took the boys to see him in the hospital and he yelled at T (who was 1 at the time) for something. Something he would've never done before. (it was a normal kid thing) T burst into tears. I think that is the last time my boys saw him alive.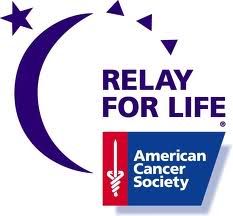 He ended up passing away on July 6th. Then recently with the
scare with my grandma
(who is a breast cancer survivor) made me even more determined to do this again. Last year I did the American Cancer Society's Relay for Life. I raised $500 (thanks mostly to the Rev's family and one sweet woman from our church that taught the preschool class). That was the 3rd highest by an individual, a fact that I am very proud of. And the Rev. was on a missions trip so I walked alone. I ended up walking 24miles. My feet were blistered and I couldn't walk for 3 days (I literally was crawling!). I physically could NOT walk anymore when I left there. You can read all about it
right here.
So this year it's on July 9th. The Rev and I are starting our own group since we moved and don't know anyone. (last year I walked with Sweet B's old karate instructor's group). I would absolutely LOVE it if you would support me and the Rev (who will be walking with me this year!) with prayers and financially if God leads. Our goal is $500 again this year. You can donate by going to
my personal Relay for Life page
.