And I promise it's easy! I'm no seamstress and am a beginner sewer so if I can do it anyone can! I have been sewing for a couple years, but nothing hard or major. I've done pants and pillows and bags. Since we've moved I have been wanting to redecorate our play/office/guest room and last week I began. I wanted to make a comforter that would match but didn't want to pay an arm and a leg for it. I did what I could to keep costs down and make it as easy as possible for me to make. So here's what you need.
Supplies:
2 twin size, flat sheets; washed and ironed (or whatever size you need. I made twin size)
coordinating thread
pins
sewing maching
fusible quilt batting for your size quilt (you can use regular but this makes it sooooooo easy!)
usual sewing supplies (needles, etc)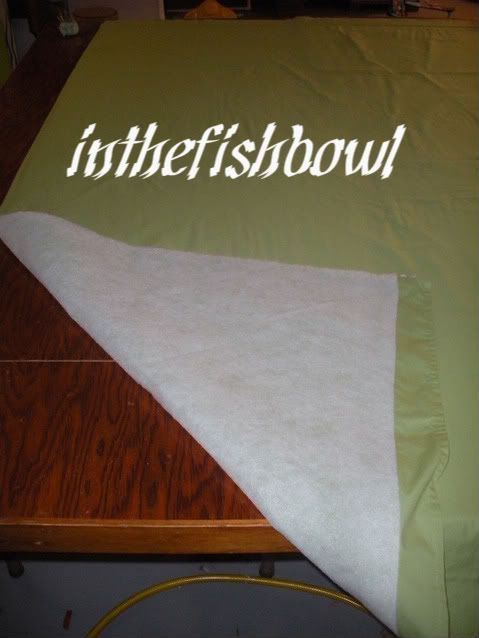 First I laid out my fusible quilt batting (I got this with a 50% off coupon at JoAnn's) and over top of that my first sheet (I got this at walmart on clearance for $4). Then you simply follow the directions and iron from the middle out to the edges. It's okay if your sheet overlaps the batting.
Next, you want to lay your other sheet on top of the sheet you just basted to your quilt batting with right sides together. Make it as smooth as possible. It helps if you iron each with starch beforehand. Pin together trying to keep the top sheet as smooth as possible so you don't get wrinkles and tucks. If this happens, don't fret! You probably won't notice once the comforter is washed and puffy. Make sure to leave about a foot at one of your ends unsewn so you can flip your comforter right side out! Then stitch around the edges (I just used a straight stitch) and flip right side out. (shown above)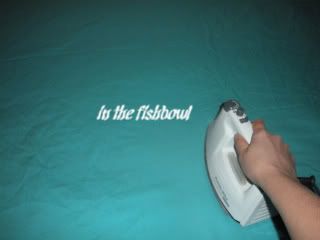 Then you want to iron the other side that you haven't ironed yet to fuse it together. This simply keeps the fabric and batting from slipping around when you are stitching it together.
Next (and I apologize I don't have a picture of this!) you need to mark where you want your stiches to be. I wanted three going the length of the comforter and three going the width. I measured the entire width of my comforter and divided by three. I measured out what the answer was and marked with a pin. I did not start sewing from the very tippy top of my comforter but started about 6 inches down from the top. This left room for my two horizontal stitches. I highly reccomend using some type of washable marker or pencil and a yard stick to make a straight line all the way down. I did not, and, well, you'll see the results in a bit! Then for my top horizontal strip I started at the first line and went all the way across to the last row of stitches. Then I did one in the middle and the last one at the end of my verticle stitches.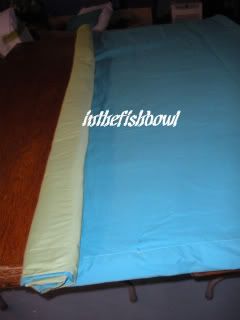 Next you want to roll up your quilt up to your first stitch mark so it fits into your sewing machine.
Then you stitch following your line down until about 6 inches from the end. You do this for all 3 rows (or however many you have) The middle one was the hardest for me. Stop 6 inches from the bottom as well. And you can stitch up that last foot of space that you used to flip you quilt to the right side. I tucked in the unfinished edges and did a straight stitch with my machine. You can do a blind stitch if you want. Also before you do this make sure your bobbin is full! Nothing like being in the middle of stitching the hardest part and running out of bobbin thread!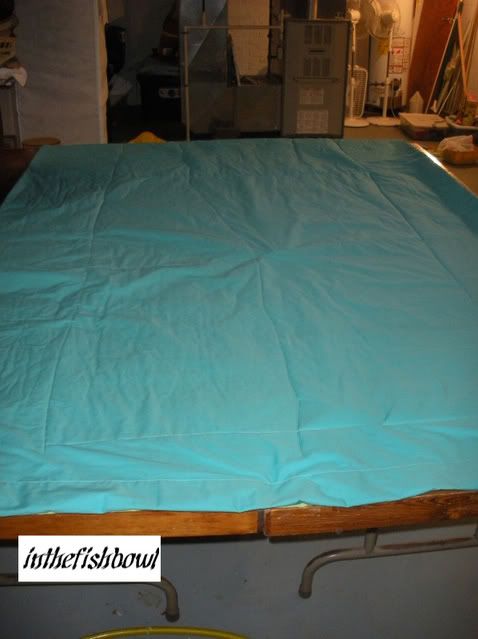 I'm not sure how well you can tell in this picture but I did NOT use a yard stick and my middle line is very crooked. The Rev says it adds character! Then you simply wash it on hot to remove the fusible part of the quilt. Now you have a reversible quilt that cost way less than brand new and you can custom make it! I would even look for sheets at goodwill or a thrift store near you!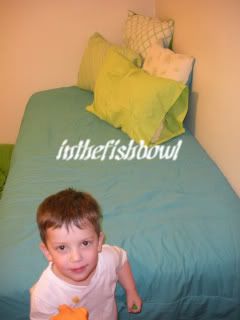 The finished product!