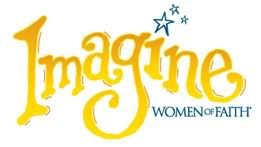 Well, a couple of months back
I wrote a post
on how
Book Sneeze
graciously offered me tickets to out local
Women of Faith
conference and in return I would blog about it. As it started on Friday morning and
Sheila Walsh
started talking I knew that it was going to be near impossible for me to blog about everything that I wanted too! Honestly, every speaker was amazing and I learned from each one. Each speaker had spoken about their life with such transparancy. It was so good to hear them and then I thought, I can't believe she just admitted that because I'm the same way and never would let anyone know! Then I thought, "Oh, my! This whole time I thought I was the only one!" I'm not sure why, as women, we feel that way!
The speakers that spoke to me the most (and all were equally amazing! I promise! But these 2 in particular resonated with my own life experiences) were
Nicole Johnson
and her talk on her parents divorce and
Angie Smith.
I had actually never heard of Angie Smith before Women of Faith but her story had me almost sobbing. And while I never lost a newborn, I lost a baby by miscarriage and what she said after her baby was born, was what I said when before my ultrasound confirming my baby had died. I knew that God could perform a miracle and I prayed and begged He would and it didn't happen for me.
I had an absolutely amazing time with my monkey, which happened to be my mother! (You'll have to go to one yourself and listen to
Dr. Henry Cloud
if you want to know what my monkey talk means!) I was fascinated by his talk as he is a clinical psychologist and his talk was amazing. I always love hearing about how God wired us to be. Overall, I had an amazing experience and absolutely LOVED it! The
worship team
was amazing,
Natalie Grant
was spectacular and while I'd heard of
Mary Mary
I never really listened to them and they were fantastic!
All of the speakers were fabulous as well. There was also
Lisa Harper
, and
Luci Swindoll
. Each one was wonderful in there own way. They made you laugh and then they made you cry, and then they made you laugh again! It was amazing and I am praying that the truths I learned about God and His love for me will change me from the inside out as He makes me into who He wants me to be. So thank you a thousand times over Women of Faith and Book Sneeze for the amazing opportunity!