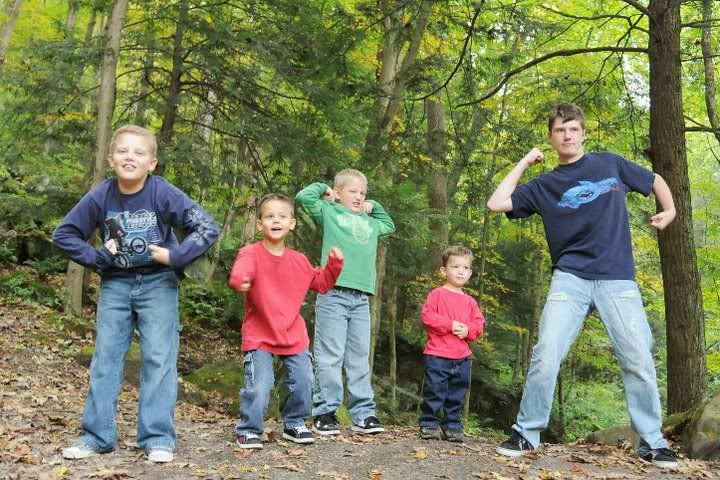 Fall 2010
 Yep, it's time for boy bragging! If you didn't know my boys are pretty amazing and it's time to tell all about it. First off, last night for church we went to a local trailer park and delivered presents to kids and sang carols. It wasn't as cold as it could've been but it was still very chilly but it had rained almost all day and it was sopping wet! HUGE puddles and yards just all mud. And still my boys (and many other kids from church) trekked through for two hours and they had a great time! I don't think I heard any of the kids complaining!
Also, I am so proud of B because he really struggles with math. When we pulled him out of public school and into cyber school he was a month behind what they were teaching. Well, after doubling and tripling up on lessons he finally caught up to his classmates yesterday!! Just in time for Christmas break!
Next up is my little T. He is the most helpful four year old you'd ever want to know. Anytime anything needs done he is always willing to help and he does a great job!
MyMy is such a sweet guy. He is listens so well and had been obeying mom and dad very well this week. This isn't always easy for kids! He always does his morning chores and does them with a smile. I'm so proud of him!
Mr. N has been excelling at his school work. He's been working hard and working ahead. This week he finished his work two days early so he got extra Christmas break this week!
And my oldest, L. He has been working so hard at basketball this season. I definitely see improvement from last year and I am proud of the hard work he's putting in at practice to become better.
There are so many more things. My boys love each other so much and it is evident to me daily. They love their friends like brothers. They are the best boys and I am thankful that God chose me to be their mother!