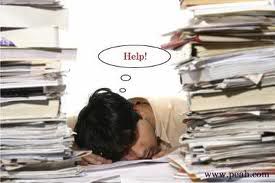 So, most of the time I get asked how I can homeschool my youngest four. They wonder how it's possible to keep everything going and working and smooth. Well, I am somewhat organized. Yep, somewhat. Not fully by any means. I have a method that works for our family. It is not one of those super neat and tidy rooms with lots of nicely stacked and color coded bins. Nope. Ours is organized chaos.
First up, everyone gets their own desk or table. N's desk I scored on half off day at our thrift store and got it for $15. It has three drawers he keeps various stuff in. B has an old library table that I got at a thrift store with a gift card I received for Christmas. M and T use a small child's picnic table my dad built.
Then I have various storage for books and supplies. B actually keeps all of his books in a shelf built into his table. For N, someone gave me a small, wooden cupboard they no longer needed. It fits nicely in between his desk and B's. For MyMy and T I use some old shelves we had laying around. One simply needed a coat of paint. All their stuff is placed in these things in no particular order but it all available and easy for each of us to reach from their particular area.
B's and N's work areas
I also have all of them in the same room. This way we can all do work and I am readily available to help and/or teach anyone at any given time.
Another thing I do is on the weekends I print out a list of work they need to do each day of the week. I simply used a template in Word on my computer and filled in each class, and what they needed to do for that class. They highlight it when they are finished. When all things are highlighted they're done for the day! Some days it takes two hours and some days it takes five!
What are some things you do to keep organized and your "homeschool" running more smoothly?
I've linked up at the following: