Peeled snacks!
So, I was recently given the chance to sample
Peeled organic snacks
for free through
SheSpeaks
. I was excited to try them because I am all about eating healthier. First, I had trouble finding them in the store. Then the package was tiny for the price. I also was given a $10 gift certificate for their
online store
. I was super excited to get something for "free". Well, little did I know that their prices are more outrageous online! There was one thing online cheaper than $10 and it was the
Farmer's Market trio
. It had dried raisins, cherries, and apples. I like all of those so I ordered it only to find shipping was $7! I thought that was extremely high. Thankfully I had some paypal to cover it and awaited my Peeled snacks. They arrived pretty quickly and were packed fine. I thought they were very good, but I like that kind of stuff. The apples were a little chewy. (My mom said it was like chewing rubber!) She didn't like the taste either. Overall, I liked them. I thought they were good tasting and I like that they are organic but they are WAY to expensive. So I'll probably forgo buying them for my other snacks because of it!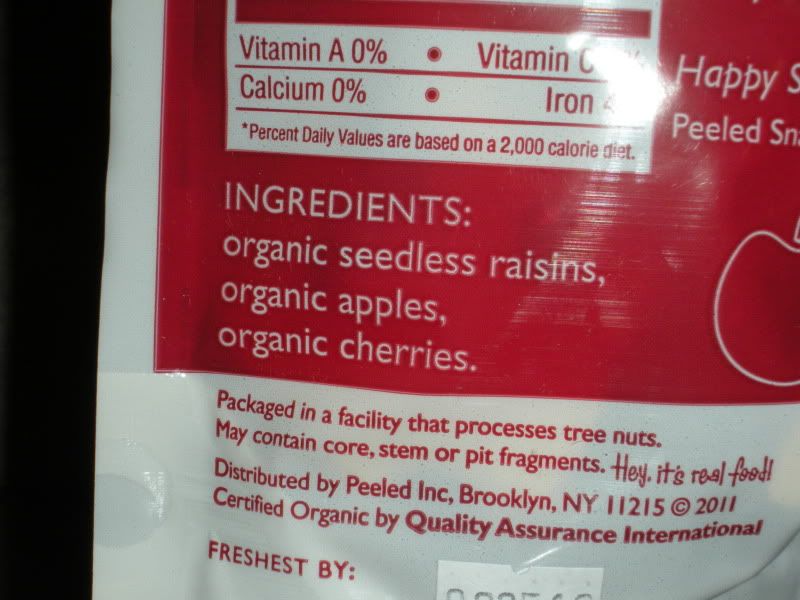 I love that it's real food!