Everything you need for homemade laundry detergent!






Well, I've decided to try making my own of a few things and thought I'd share them with you! Most of the things I've been trying are homemade cleaners. First up is the homemade laundry detergent. I've actually already been using this quite awhile and it works great!
Homemade laundry soap
Ingredients:
1 bar Fels Naptha soap (found in laundry section of store) you could also substitute Ivory
1 cup washing soda (not baking soda. Laundry section of store)
1 cup Borax (laundry section of store)
1 32oz container
Directions:
First you need to grate the soap. I tried just sticking it in my food processor in chopped up chunks and that didn't work! Then you simply measure the other two ingredients into a bowl. Mix in the soap and you're done! It's that easy! If you truly want it to be a fine powder you could stick all this in your food processor, but it works fine and mixes together fine for me just like this! Then you add 1-2TBS per load of laundry.
Super easy and it works! If it can get out the stains my boys put on their clothes then it's good for me! I put mine in an old 32oz yogurt container that's labeled. Also, until I moved there was no store that sold washing soda near me. You can have it shipped to you. I never did and so I never made it before we moved. I was so excited a few months ago when they had washing soda!! Up next, homemade dishwasher detergent!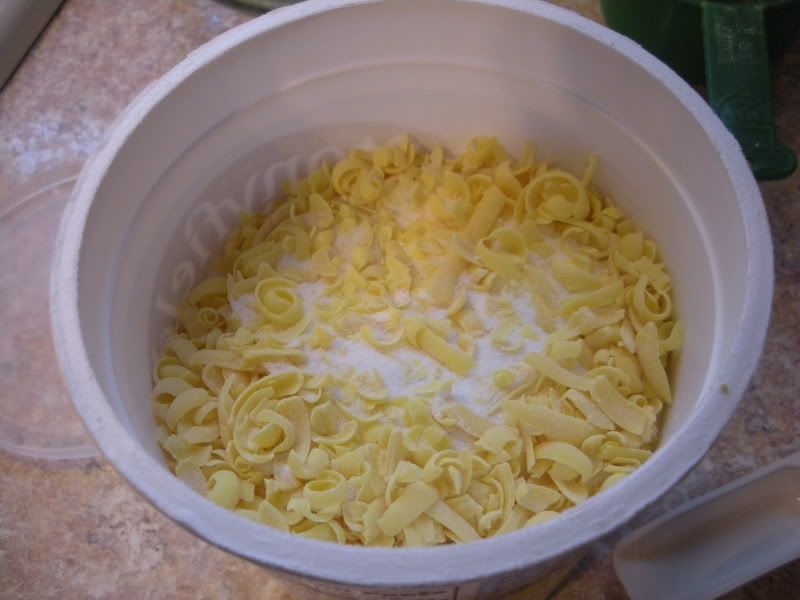 all mixed up!
Disclaimer: this is not my own recipe. I've seen this all over the internet and decided to check it out for myself!
I'm linked up at: