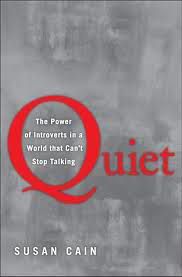 OK, yes it's another book review! I'll be getting into some family stuff later this week. You know you are all dying to see pics of my kiddos! Anyway, when I saw the title of this book I was immediately intrigued.
Quiet: The Power of Introverts in a World That Can't Stop Talking by Susan Cain. Mostly it was the word Quiet. I have been called Quiet many times and I know without a shadow of a doubt that I am an introvert! I loved this book. In fact, you may not know it but without introverts we wouldn't have the following:
the theory of gravity
the theory of relativity
W.B. Yeats's 'The Second Coming'
Chopin's nocturnes
Proust's 'In Search of Lost Time'
Peter Pan
Orwell's '1984' and 'Animal Farm'
The Cat in the Hat
Charlie Brown
'Schindler's List,' 'E.T.,' and 'Close Encounters of the Third Kind'
Google
Harry Potter
This is only a tiny fraction of what introverts have contributed to the world. Being an introvert myself I really enjoyed reading all about this subject. You can tell that Susan Cain (an introvert herself) really did much research in this subject. The book goes on about how our America celebrates the extrovert and social butterflies. Often times it seems if you are not one of these than you are somehow not as good as those who are. Thankfully I already knew that wasn't true. I have been called quiet, shy, timid and I'm sure many other things, but this book goes on to tell how introverts most definitely have their place in this extroverted world and are needed here as well.
Here's the official book trailer: (you can turn the music off by scrolling down to the bottom and it's on the right in a black box. Just click pause!)
Disclaimer: I received a free copy of Quiet from WaterBrook Multnomah Publishing Group for free. I was not required to give a positive review and all opinions are my own.