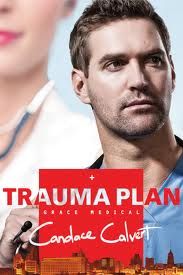 It's been way too long since I've posted and now I'm back with another book review! Life's been busy but not too busy to squeeze in some good reading! I recently had the chance to read and review
Trauma Plan
by
Candace Calvert
. It is the first in her new series called Grace Medical.
Dr. Jackson (Jack) Travis is a man who isn't afraid to take risks. This is the reason he is not scared to take on people in an uppity neighborhood who are trying to get rid of his free medical clinic that attracts "low life" they don't want around.
Riley Hale was an amazing ER nurse who was brutally attacked and left with severe injuries that all but ended her carrer as a nurse. She desperately needs to practice her skills so she can go back to being what she loves...an ER nurse.
This is where it all begins. Jack needs experienced medical personnell at his clinic and Riley needs to practice. They needed each other for this reason until feeling began to grow. Riley was unsure how to proceed as she is a Chaplain and her faith is wavering as it seems God isn't ansewering her prayers. Jack isn't sure if he believes at all. Through it all it is evident that these two need each other in more ways then professional. Jack isn't without his secrets. The story is wonderfully written and adds some side characters that really add to the depth of the story. I really enjoyed reading this! I am looking forward to reading more from Candace Calvert!
I received this book free from Tyndale to reveiw. I was not required to give a positive review and all opinions are my own.